President Rhonda opened the meeting. Rhonda welcomed a number of guests:

Sir Gordon Tietjens (speaker)
Phil Waylen
Keegan Millar
Terry Smith
Adrian Pohio
Shianne Banks
John Norvill
Peter Campbell
Jim and Keryl Rickard
Buddy Mikaere and
Amanda Jane McFadden
Warren advised that the movie Military Wives is nearly sold out. If you have paid but have not received a ticket, that means Warren has no record of your payment. You should therefore follow up to find out what has gone wrong.
Pat (filling in for Les) spoke about the he wake inoa This is Us event. That said it is a significant event for the Club and he particularly thanked Pauline and Les for the time they have put into it. The exhibition starts on 27 August. We will need members to fill to hourly stints. More details to come.
Ross Brown said there will be an auction which is planned for the meeting on 9 October. Ross is looking for items which can be auctioned to raise money. Please contact Ross, Sally or Warren Scobie.
The Club welcomed:
Jim Rickard,
Buddy Mikaere, and
Amanda-Jane McFadden
as members and they were each inducted by President Rhonda. Buddy had one particular thing he needed to say. It seems that some 10 years ago he attended an event at which the speaker was one Gordon Teitjens. After the speech a bottle of wine was presented to the speaker, but he forgot to take it with him when he left. The bottle nevertheless went to a good home. Buddy brought along a replacement bottle (full) which she presented to Sir Gordon with due ceremony.
Sir Gordon Tietjens was introduced by Ron.
Ron introduced Sir Gordon as someone needing no introduction. Ron did however issue a caution that if one is ever playing tennis with Sir Gordon it is a good idea to be on the same side.
Sir Gordon started with a rundown of his life – he was born in Whanganui in 1955, moved to Rotorua when he was 5, moved to Tauranga in 1983 and has lived here ever since. He has worked for Bay Engineers Supplies for all that time (although not in a full-time capacity). He has spent 22 years coaching the All Black 7's and 3 years coaching the Samoa 7's. Covid 19 has put a stop to all that, and this is the first speech he has given for a while.
Sir Gordon talked about the way he has tried to develop culture in his teams, based largely on traditional values. He is an admirer of Roger Federer as someone who always gives 200% and for whom losing does not always mean failure. His selections have been based on character and coachability.
Sir Gordon uses a traffic light analogy to assess people, and he considers this is as applicable to business as it is to sport. People can be classified as reds, yellows, or greens. The assessment has nothing to do with talent – that is taken for granted. Reds are trouble and will never perform consistently. They can't really change and you don't want them on the team. Yellows perform inconsistently. Greens always deliver. [At this point in the presentation there were some IT difficulties including around the timing of the initial slide. Some members of the audience expressed concern about the colour which should be applied to our IT consultant and Sir Gordon gave perhaps a glimmer of what it might be like to fail to follow his instructions if he was your coach.]
His training sessions were intentionally harder than games. Coaching principles include:
Hold to what works (but innovate as well);
Clarity of role;
Switch on/switch off;
Have fun; and
Connect through hard work.
Sir Gordon also had a list of important sentences with a descending number of words:
I admit I made a mistake
You did a good job
What is your opinion
Could you please
Thank you
We
I (the least useful word)
Lynda Burch delivered the vote of thanks.
*********************************************
THIS IS US- "He Waka eke noa"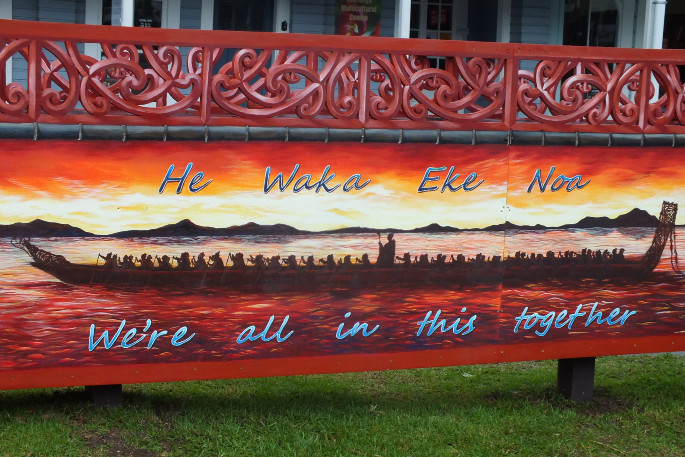 Over the past six months or so Pauline and Les have spent literally hundreds of hours putting together what is one of the most significant projects this Club has ever been involved in.
In the last month the Club has sponsored two well attended workshops where participants have told the history of their individual journeys, which have been recorded for posterity on video and from this created individual hoe (paddles) telling their stories in pictorial form and setting out their vision for Tauranga. Those who have attended and participated have found this to be a richly rewarding and at times quite emotional experience.
The culmination of this project is the exhibition of the individual hoe at the Incubator, combined with continuous screening of each participant's story.
The official launch of the exhibition will be 5pm on Thursday 27 August and invitations will be sent out shortly to sponsors and supporters.
As mentioned up until now Les and Pauline have done all the heavy lifting and it is time for club members to become more involved. The exhibition will be open to the public from 28 August for a month and we are seeking help from all members to man the exhibition over this period, even if only for a couple of hours.
Each WEEKDAY there will be two spaces on the manning roster.
10-00am to 12-30pm
12-30pm to 2-30 pm
Those manning the exhibition will be simply there to answer any questions from the public and encourage them to complete miniature hoe which will then be pinned to the wall at The Incubator.
A list of FAQs and answers will be provided to help you on the day.
This is a significant project for not only the club but also the Tauranga Community and it is a huge opportunity to showcase Rotary in general and our club in particular.
A roster is being put together and it would be great if all members could give serious consideration to helping man the exhibition some time over the month. Please put you hand up when Pauline and Les come calling. The Club has an enviable reputation for pulling together at events such as this and while we understand that many of you have work and other commitments we also know that once again Tauranga Sunrise Rotary Club will meet the challenge.
One other thing. If you have a club shirt could you please wear it as we wish to take every opportunity to let the local community know of our involvement in this project.
Pat Taylor (on behalf of Pauline Cowens and Les Geraghty)
*********************************************
Sergeant Stephen started by noting that anyone from Ballance should be concerned about the proximity of fertiliser to diesel tanks. He also noted Michele Beaton who went to a Jimmy Barnes concert but didn't enjoy his screaming. She then compounded the position by asking "who is Cold Chisel?" There might be other Club members who would say the same things, but Stephen isn't one of them (neither is your editor).
He then gave us a rundown of his rugby career which involved some famous names but was brought to a premature end about 35 years ago when he was invalided out, evidently with a shoulder injury. He is due to have a bionic shoulder installed shortly and a comeback is on the cards. (Best wishes for your operation).