President Rhonda started the meeting with a full house. Great to see so many people there.
Visitors
Leonie Thrubshoe and Adrian Pohio soon to be new members.
Anniversaries
Ron Fyfe 33 years in Rotary.
Announcements
Rhonda:
Board meeting this week approved the disbursement of $25k across 10 different community organisations.
The Community services committee had 15 applications and we able to spread our special allocation across the following.
1 Alzheimers Foundation Tauranga: $3k. To assist with costs of support and activity groups.
2 YSAR: $3.4k. To fund outdoor first aid course for 18 students
3 The Incubator: $2.9k. To purchase two heat pumps.
4 Merivale Community Centre: $3k. To fund a holistic music programme to inspire youth in Merivale.
5 Homes of Hope: $2.4k.To fund 1 child with a trauma therapy courses.
6 Breast Cancer Support Tauranga: $2.8k. To provide ready-made meals for six months to families of Breast Cancer sufferers.
7 Epilepsy NZ BOP: $2.7k. To assist with the purchase replacement vehicle for BOP Educator. (Jointly with other funders).
8 Your Garden: $0.925k.Providing garden materials to assist teaching of nuerodiverse students through gardening activities.
9 Bay Twisters: $2k. To fund half cost of website development. Provide Cheer sports for local children and Rebound Therapy for children with physical disabilities.
10 Te Puna Kindergarten: $1.4k. To purchase garden shed and equipment for community gardens. Emphasis on environmental education and building communities.
Members are asked if they could please add their birthdate into their club record so they can be acknowledged.
Here is the link for the Board Meeting notes:
Congratulations to Rosalie.
She was involved as location co Ordinator for a short film contest. Little Waihi was selected. The film has won the NZ short film awards.
AGM
Set down for 6 November. We are looking for President elect for 2023. Plus a Treasurer and Secretary for next year. Both Ray and Warwick are looking to pass over the mantle but will provide good support in the transition. Please let Rhonda know if you are interested.
Simon Beaton Robbie Burns night.
Do we change the date for Christmas? Has Ireland changed the date for St Patricks Day? Does mince hang on a meat hook? Does a one-legged duck swim in circles?? Has a chicken got lips??
Does the international Burns night change its date from 23 January?????????. Noooo
Yes it's still on. 23 January 2021. What better way to end the summer holiday with a rousing Gay Gordon (he's not really Gay) , strip the willow and ode to the haggis, plus a wee dram.
Wayne Shadbolt – The Remaker space has its official opening this Saturday
Pauline Cowens – This is us exhibition closed yesterday. Sunday from 12.30 to 3pm the exhibition will be packing down and opportunity for participants to see it for the last time.
The exhibition has been a great success. 1,900 visits to the Facebook site, 900 visited the exhibition and 21 great Rotarians volunteered to help.
Paul Brljevich – Quiz night 14/10/20. Teams are 8 per table or put your name down and they will put you in a team. $25 per person.
Bob – TGA arts festival is on 17/18th October.
Ross – Remember the auction 9/10/20. Next week is the last week to donate goods for the auction
Friday 5's. By the time you read this bulletin the Friday 5s will have come and gone. Always a great night for Rotarians and their partners to get together for a social evening.
Speaker Our new member Buddy Mikaere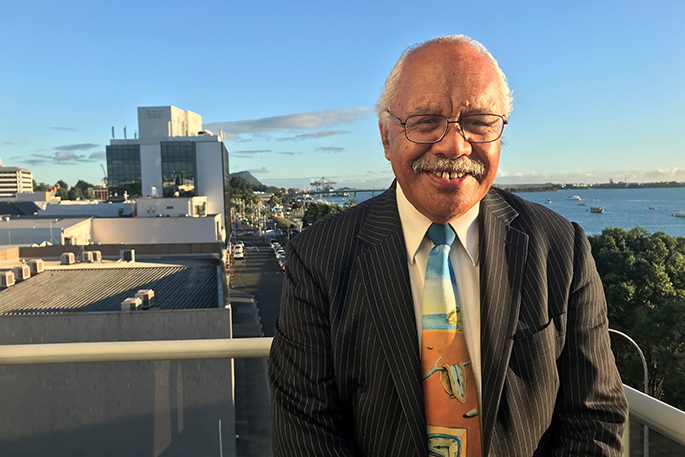 Buddy was born in Tauranga and a descendant of the Pukehinahina defenders of the battle of Gate Pa. He is a professional historian and specialises in Maori consultation.
Buddy talked about his hapu whose land around central Tauranga was confiscated after the battle of Gate Pa.
The sculpture on the corner of Spring and Willow streets commemorates the Hapu who occupied the land and used it for their gardens and fresh water supply.
Among many other things Buddy is working to bring and inner-city culture to Tauranga. From Pou on the Strand to spearheading a cultural centre at Gate Pa to commemorate the NZ Land Wars.
Raffle won by Warren Banks
Sergeant – Phil Mangos
Started the session with a shoe off (flashiest pair of shoes) between Warren Banks, Glenn Dougal and Barry Fredheim. Barry the clear winner.
Talked about birthdays and fun facts
The most amount of birthdays are between 24/9 and 4/10
Most serial killers have a November birthday
In 2009 Nadia Silman held the record for the most babies in one birth = 8.
The record for the most children born to one woman is 69 set in the 18th century. After she died the father went on the sire 20 more.
Parting thought (maybe from Graham Cornes?)
God help the inflexible for they will forever be bent out of shape.
And finally: A dad is washing the car with his son. After a moment, the son asks his father, "Do you think we could use a sponge instead?"
This week's genuine insurance claim: 'The water in my radiator accidentally froze at 12 midnight'