| | |
| --- | --- |
| Attended | 32 |
| Apologies | 13 |
| LOA | 7 |
| Silent | 6 |
| TOTAL | 58 |
Guests and visitors:
Puran Singh, Viv Dykes and Jos Fidero
Ex-President Dave Robinson welcomed visitors and received a pennant from Jos, visiting from Front Royal Rotary Club, Virginia
Upcoming Events:
RYPEN – There was an organising meeting for this event directly after today's meeting. All volunteers are welcome.
K Valley cycle race - Les Geraghty publicised this event and also reminded us that there is an upcoming Rialto Movie night being organised by Warren Banks.
Bob's Barbeque - Bob reported great progress in gathering numbers for the barbeque, with 40 plus attendees having replied to him. People are asked to bring a starter or a dessert to share at the event.
Bayley's Kaimai School Golf Classic – Phil Mangos spoke about this upcoming event and referred us to the Lifestyle pullout in this weekend's Sun for more details.
Multi-cultural Festival – Pauline circulated a request for able bodied volunteers to help set up and dismantle tents etc, at the festival, which is also the official place and space for the official launch of the 'This is Us' waaka project.
Rotary Conference in May – Wayne reminded us of the date and encouraged anyone interested to register for what will be an informative and great networking Rotary event.
Child Cancer Collection – day is today and Wendy problem solved with the club to fill a vacant spot.
Friday Fives – are on tonight!
Guest Speaker: Joanna Hall - ExportNZ
(Introduced by Paul Belcaster)
Jo shared some great insights into ExportNZ, Bay of Plenty and the EMA. It has been around since 1971 and is the largest business network in the country covering the North Island from Taupo North and fills many roles for businesses small, medium and large. Advocacy, training and development, as well as HR, resources, workshops and legal support and networking with local and central government all fall under the ExportNZ umbrella.
Jo highlighted for us the International dimensions of her work, hosting and collaboration with offshore business communities and as she phrased it 'smoothing the way culture to culture' between offshore and onshore businesses.
The Export Awards are something that have been developed and hosted by ExportNZ and are in their 30th year this year. Jo encouraged business people in the room to consider entering the awards and gave us feedback on Bluelab, winners of the excellence in innovation category last year and the difference it has made to them, particularly in recruitment of staff.
Jo also took us through the Excelerate mentoring programme run by ExportNZ, 100 mentors supporting businesses, and again suggested anyone interested could consider joining this programme.
Everything that ExportNZ does can be summarised in their intent to 'Help businesses and the community succeed and grow'.
Raffle ticket number 53 was the winner! If it was you – congratulations!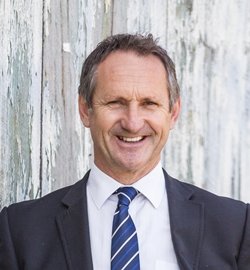 Sergeant: It being February 28 in leap year, first time Sergeant Phil Mangos regaled us with the history and some of the quirks of being born on the 29 February, including being called a Leaper or Leapling (but not a Leper)
He also took us through the Gregorian calendar, the time it takes earth to go round the sun, Julius Caesar's dabbling and the origin of women proposing marriage on this day (it doesn't legally exist so anything goes (and turning her down meant giving her twenty pairs of gloves!).
With a final nod to Scottish (sheep) and Italian (marriage) reasons why the whole year is considered bad luck Phil finished on the note that 'In a leap year women are erratic!' , (which he may well find to be true at future Rotary meetings – editor's note)
EARLY REMINDER:
March 13 is as close as we will get a Rotary meeting to St Patrick's Day, (and Les Geraghty's recent DNA test revealed that this fourth generation New Zealander is 92% Irish) so be forewarned that green is the colour of the day, limericks will be making a comeback (if you remember last year) and your participation is cordially invited expected.
And finally…..
What did the elephant say to the naked man?
How do you breathe through something so small?